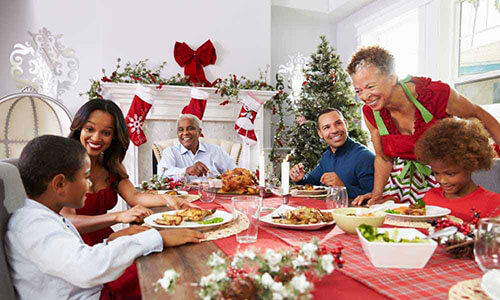 The holiday season is a minefield when you're trying to stick to a healthy eating plan. Cookies, eggnog, cocktails, kugel, cakes…the list of potential dietary saboteurs goes on and on. Add to that, obligations of shopping, out-of-town guests, travel and holiday celebrations, and it's tough to stay on track with your normal workout routine.
Rather than surrender your body to the season, use some of the following tips to stay on your healthy course.
Don't give up on workouts. You may have less time to work out, but that doesn't mean you can't fit in some activity. Settle for 20 minutes on the treadmill instead of 45, but make it extra intense. Schedule workouts early, too, making sure they're done before the excitement of the day prevent you from fitting them in.
Squeeze in extra exercise. You may be struggling to get your normal routine workouts in, but keep your eye out for alternative workout opportunities. Offer to play catch outside with visiting nieces and nephews or take Aunt Sally for a walk to catch up, rather than do so on the couch.
Remember that cocktails have calories. A glass of wine or two is festive, but chocolate-peppermint martinis, margaritas, and white Russians have lots of extra calories that add up. Plus, too much alcohol lowers your resolve so you might make less-than-stellar food choices.
Bring a healthy dish to potlucks. If you're invited to a holiday potluck buffet, offer to bring a salad, crudité tray with hummus or lean chicken tenders so you're guaranteed to have healthy munchies.
Get in the holiday spirit. Decorate your tree and you can burn an average of 85 calories in 30 minutes. Hang lights, wrap gifts, and walk as you shop to keep the calorie burn going all day.
Don't show up for holiday parties hungry. It's okay to eat lighter during the day knowing you might have a treat or two, but showing up starving is a guaranteed way to end up binging on unhealthy treats.
Plan non-food activities. Cookie exchanges and potlucks are fun ways to celebrate the holidays, but there are plenty of other ways to enjoy time with family and friends. Schedule a friendly holiday match of touch football, a family hike, or volunteer together for a shelter. You still spend time with loved ones, but don't take in extra calories while doing so.
Avoid keeping temptations in the house. If you're the lucky recipient of food gifts, enjoy one or two and then send the remainders to the office, kid's school, or share at church.
Make your indulgences worth it. When you do splurge, make sure it was exceptional. Don't eat latkes or gorge on fruitcake just because it's there. If you really want a slice of Grandma's pie, have it. But don't feel like you must then eat the grocery store pie served at other gatherings, too.
Don't let one mistake open the food floodgates. If you do overeat one day or make unhealthy choices, let it go. Get back on track at the next meal. You may be tempted to give up until the New Year, but several days of indulgence do a lot more damage than one meal.
A healthy weight reduces your risk of chronic disease, keeps you feeling energetic and can help your self-esteem. At Pure Medicine, we want you to be the healthiest you — so if you do enter the new year with health needs, contact us for a consultation.
---
Our Location
Pure Medicine
4645 Avon Lane, Suite 200
Frisco, TX 75033
Phone: (469) 414-9660
Weight Loss specialist serving patients in Frisco, TX, and the surrounding Dallas-Fort Worth metro area communities.