Hypertension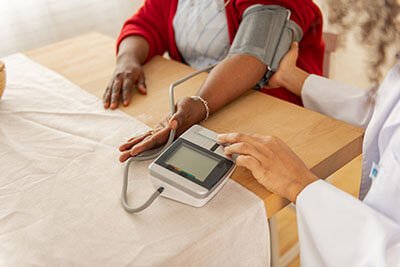 Hypertension, or high blood pressure, is a serious condition that deserves considerate care. If you live in the area surrounding Frisco, Texas and need help with hypertension, please call our clinic at (469) 414-9660 or contact us online today!
What is hypertension?
Hypertension means that your blood exerts too much pressure on your blood vessels when it pumps through the body. One in every 3 adults has high blood pressure, and 20% of these sufferers don't even know it. Stage 1 hypertension is measured at 140/90, while stage 2 is 160/100 or higher. You reach a hypertensive crisis when your blood pressure is 180/110 or higher.
Doctors refer to hypertension as the silent killer because it doesn't cause a lot of symptoms. It develops over time and results from a number of factors, including genetics, lifestyle, and other underlying conditions. This is why it's so important to get your blood pressure checked regularly at Pure Medicine.
What's prehypertension?
Your doctors may say you have "prehypertension" when your blood pressure is at 120/80 or above, but not quite at 140/90. This is the time to pay close attention to lifestyle measures to keep your blood pressure under control, as it's an indication that your blood pressure will likely get worse with time.
Why does blood pressure matter?
When untreated, high blood pressure causes very real damage to your heart and circulatory system. You're at greater risk of a stroke, heart attack, and other complications. Before being diagnosed as hypertensive, you'll need several high readings. Blood pressure changes over the course of the day and can elevate when you're under stress, such as when visiting the doctor's office.
How does Pure Medicine clinic treat hypertension?
In addition to helping you understand lifestyle changes that control blood pressure, the staff at Pure Medicine may prescribe blood pressure-lowering medications. Dr. Pastorek will regularly monitor you to make sure your condition doesn't worsen.
If I have hypertension, what habits should I change?
You'll likely need to reduce your sodium intake, limit alcohol intake, get your weight to a healthy level, and exercise more regularly. When you visit the office, Dr. Pastorek individualize a plan for you.
Request Your Appointment Today!
To request your appointment, please call (469) 414-9660 or contact us online today!
---
Our Location
Pure Medicine
4645 Avon Lane, Suite 200
Frisco, TX 75033
Phone: (469) 414-9660
Medical clinic serving patients in Frisco, TX and the surrounding Dallas-Fort Worth metro area communities.