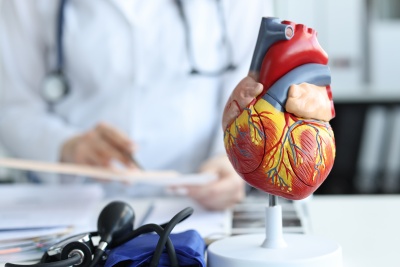 A cardiac calcium score is a test that uses specialized X-ray equipment (CT scanner) to measure the amount of calcium buildup in the walls of your coronary arteries (blood vessels supplying the heart muscle).
This imaging study visualizes the degree of calcium buildup in your coronary arteries to help determine the extent of coronary atherosclerosis (plaques/blockage) present if any. The degree of atherosclerosis present determines whether your risk for heart attack and/or stroke over the next 5-10 years is low, moderate, or high.
A normal score is zero, meaning that there is no evidence of any plaque buildup or blockage to arteries that supply your heart.
How is the Test Done?
The test involves lying on a table while a technician takes pictures of your heart using a CT scanner. The entire process takes about 10-15 minutes and is non-invasive.
When Should I get a Calcium Score?
Typically, providers (general doctors / primary care physicians, internal medicine physicians, family practitioners, cardiologists, or midlevel providers) may consider ordering a calcium score for patients with or without any cardiac symptoms to determine whether heart disease is present, especially those who have risk factors such as high blood pressure, high cholesterol, diabetes, a family history of heart disease, or a history of smoking.
The age at which physicians order the test can vary depending on the patient's individual risk factors, but it is generally recommended around 40 years of age (possibly as early as 35 years of age for high risk individuals).
After the first test, the frequency of subsequent tests will depend on the initial results and the patient's overall risk factors, but generally, it is helpful to repeat the test in 5 to 10 years.
Why this Test may not be Covered by Your Insurance Company:
Insurance companies typically don't cover the cost of a cardiac calcium score, because it is considered a screening test. However, the test can be a valuable tool in identifying individuals who are at increased risk for heart disease and will benefit from further testing and/or treatments.
Average Prices in the DFW Area:
The average cost of a cardiac calcium score test in the DFW area ranges from $100 to $400, depending on the facility where it is performed.
While the test usually is not covered by insurance, many patients use the money in their Health Savings Accounts (HSAs) to cover the cost of the study.
How the Results are Useful:
The results of a cardiac calcium score test can help your doctor assess your degree of cardiac atherosclerosis, if any, and if there is any increased risk of heart attack or stroke in the near future. The extent of calcification in your coronary arteries is directly proportional to your risk of a cardiac event, such as a heart attack or stroke. The information from your calcium score will be used to guide treatment decisions with the goal to lower your risk of a cardiac event over the next 5 to 10 years.
How Results are Used to Determine Cardiac Risk:
A score of zero indicates no calcium buildup and means your risk of a cardiac event over the next 5-10 years is very low.
Scores between 1-100 suggest mild buildup and scores between 101-300 suggest moderate to severe buildup and a significantly elevated risk of having a cardiac event over the next 5-10 years.
Scores above 300 indicate severe plaque buildup and a high risk for heart attack/stroke over the next year. Scores above 300 often require lifestyle modifications, such as diet/exercise when cleared by your health care provider, certain medications such as aspirin/statins/anti-hypertensives, and possibly cardiac interventions such as coronary artery stent(s) or bypass surgery.
Typically, for anyone with a calcium score over 300, daily aspirin is considered, statin therapy is recommended with a goal LDL of 50 or lower, anti-hypertensives are prescribed to achieve a systolic blood pressure goal of less than 130mmHg, strict glycemic control is needed for diabetics (Hemoglobin A1C goal at least under 7.0). For smokers, it is extremely important to stop smoking, and for overweight and obese individuals, it is recommended to lower the BMI to under 25 and increase lean muscle mass over time.
Potential Treatments Based on Results:
If you have a high score, your general doctor / internist / family practitioner / midlevel provider / cardiologist may recommend lifestyle changes such as diet and exercise, and possibly medication such as statins and aspirin. If further testing is needed, your doctor may recommend a stress test or echocardiogram. In some cases, more invasive procedures such as cardiac catheterization or bypass surgery may be necessary.
Why Calcium Scoring Can be More Helpful than Stress Testing:
Stress testing involves measuring how your heart responds to physical stress, such as exercise/exertion. However, stress testing may not be as accurate as a cardiac calcium score in detecting early stages of heart disease. Calcium scoring can detect the presence of calcified plaque in the arteries before they become narrowed or blocked, allowing for earlier intervention and better outcomes.
Why Calcium Scoring is Necessary Even in the Case of an Asymptomatic Patient with a Normal EKG:
Heart disease often develops silently and can progress without noticeable symptoms.
A cardiac calcium score can help identify individuals who may be at risk for developing heart disease, even if they don't have any symptoms or risk factors such as high blood pressure or diabetes.
Early detection and treatment can help prevent serious heart problems in the future.
A zero or low calcium score also can be reassuring for anyone who may be worried about symptoms suggestive of heart disease or those with a strong family history of heart disease or other risk factors.
Dr. Pastorek's approach:
As a board-certified internal medicine physician (primary care provider / general doctor), Dr. Pastorek normally orders a baseline calcium score on patients, who are 40 years old or older, and if there are significant concerns for early onset heart disease, he will order calcium scoring on patients as young as 35 years of age.
For patients with zero or low scores, Dr. Pastorek discusses the significance of the score with his patients at their follow-up appointment or annual visit, and will recommend repeating the study in 5-10 years.
For patients with moderate or high scores, Dr. Pastorek typically starts his patients on appropriate prescription medications such as anti-hypertensives/statins/aspirin/etc, recommends aggressive lifestyle interventions such as weight loss, strict glycemic control, and smoking cessation, and he usually refers these patients to see a cardiologist for further testing / work-up.
If you're over 40 and have never had a cardiac work-up, Dr. Pastorek recommends asking your health care provider whether calcium scoring is appropriate for you.
---
Our Location
Pure Medicine
4645 Avon Lane, Suite 200
Frisco, TX 75033
Phone: (469) 414-9660
Arthritis specialist serving patients in Frisco, TX, and the surrounding Dallas-Fort Worth metro area communities.