Back Pain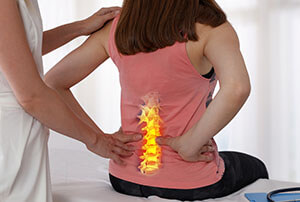 If back pain interferes with your quality of life, make an appointment with Dr. Jordan Pastorek at Pure Medicine to find some relief. With an office in Frisco, Texas, you'll find a welcoming office with comprehensive treatment plans for pain due to disc herniation, arthritis, fracture, sprain, or overuse.
What causes back pain?
Hypertension, or high blood pressure, is a serious condition that deserves considerate care. If you live in the area surrounding Frisco, Texas, consult Dr. Jordan Pastorek at Pure Medicine. Issues cause back pain. You might have something as simple as a muscle imbalance or a slight sprain, or a concern more serious such as a disc herniation or ruptured disc. Arthritis, skeletal irregularities like scoliosis, and osteoporosis also may be a source of pain.
How do you diagnose back pain?
Dr. Pastorek uses a physical exam, thorough medical history, and imaging tests like x-rays or CT scans to help determine the source of back pain and how best to treat it. Bone scans or blood tests may be ordered, depending on your symptoms and the suspected source of the problem.
What therapies are available for treatment?
How Dr. Pastorek treats your back pain depends on its cause. Your treatment plan may include:
medication
muscle relaxers
injections
rest
lifestyle modifications
physical therapy
If you experience acute pain, meaning it was caused by an accident or one-off incident, the doctors work to help you manage pain and recover as soon as possible. If the pain is due to a chronic condition, such as arthritis, the doctors help you manage it for the long term. Dr. Pastorek also helps you determine if you need to see a specialist.
What's a herniated or ruptured disc?
The vertebrae in your back are separated by soft discs with a jelly-like center. When one of these discs is pushed out of place or punctured, some of the jelly spills out, making it less supportive for your spine. The jelly-like fluid also aggravates surrounding nerves, instigating pain. Specific therapeutic exercises, anti-inflammatory medications, and lifestyle modifications are some of the ways Pure Medicine can help you overcome this condition. Don't suffer from back pain, and seek help from Pure Medicine's staff today.
Request Your Appointment Today!
To request your appointment, please call (469) 414-9660 or contact us online today!
---
Our Location
Pure Medicine
4645 Avon Lane, Suite 200
Frisco, TX 75033
Phone: (469) 414-9660
Arthritis specialist serving patients in Frisco, TX, and the surrounding Dallas-Fort Worth metro area communities.