Allergies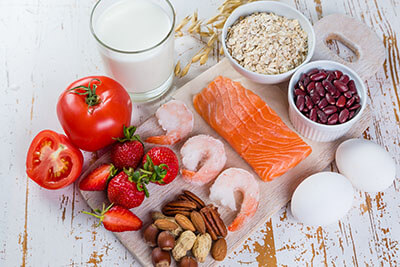 Up to 30% of Americans have allergies, and many of them don't know what causes their allergic reactions. Our highly experienced internist at Pure Medicine, located in Frisco, Texas, offers comprehensive treatment for your allergy symptoms.
How do allergies develop?
Allergies develop when your immune system creates antibodies to attack substances that are not harmful to most people. When this occurs, your immune system overreacts and releases histamines, causing an allergic reaction to particular allergens, such as dust, pet dander, or certain foods.
What are the common symptoms of allergies?
Common symptoms differentiate depending on the type of allergy. You may experience different, and sometimes multiple, symptoms for food, insect, drug-related, or environmental allergies.
Food allergy symptoms
Swelling of the lips, tongue, face, or throat
Tingling sensation in mouth and tongue
Hives
Insect allergy symptoms
Massive swelling on the area where bitten or stung
Hives
Coughing
Tightness in the chest
Wheezing or shortness of breath
Drug allergy symptoms
Hives
Rashes on body
Facial swelling
Wheezing or shortness of breath
Environmental allergy symptoms
Itchy and watery eyes
Sneezing
Runny nose
Sore or scratchy throat
Using skin and blood samples, our team provides customized treatment plans to reduce your painful symptoms.
What are my treatment options for allergies?
Once your allergens are identified, in some instances you can simply avoid them. However, since that's not always possible, our team provides a wide range of treatment options, including:
Pills (liquid or solid)
Nasal sprays
Eye drops
Topicals
Request Your Appointment Today!
To request your appointment, please call (469) 414-9660 or contact us online today!
---
Our Location
Pure Medicine
4645 Avon Lane, Suite 200
Frisco, TX 75033
Phone: (469) 414-9660
Arthritis specialist serving patients in Frisco, TX, and the surrounding Dallas-Fort Worth metro area communities.